MONTANA DESIGNS for 2016

Early outdoor magazine covers have been digitally remastered into rustic art for the cabin, home or office. Vintage scenes of hunting, fishing and outdoor adventure are personalized for your location, sure to catch the eye of souvenir shoppers and local buyers.

Custom designs on steel are available as; Weathered signs (12x15), Wall-Hanging Round "Buttons" (14" diameter) and 8" Round Table Toppers. Toppers ship flat with a notched base easily bent to stand on a shelf or table. Heavyweight steel signs are professionally printed with vivid colors and individually wrapped to prevent shipping damage. Bar coding and discounts are available for larger orders. Scroll down for Product specifics.

Scroll down for Product specifics.


All products are registered Made-In-Montana


Business "Net30" invoicing applies after your order is received.
click to open larger previews
Weathered Montana Signs 12x15




click here for Montana Sign Order Form - Word or PDF

14 Inch Round Button

This section under development

8 Inch Round Table Topper
This section under development
Six Montana Designs Available As Custom Text Postcards
(4x6)
Your business information added to the vintage back.
Minimum Order ... 60 Postcards (10 of 6 designs) ... $.85 each ... $52 free shipping
Your address, phone number and website is added to the vintage back. Drafts will be reviewed/approved on this page before printing.
OR
Double The Order
...
120 Postcards (20 of Each Design)
... $.67 each ... $80.40 free shipping
All graphics & text are editable. Online review/approval & invoicing is a quick click to a webpage. Postcards are printed in Missoula, MT. Edits & changes are quick. Allow 2 weeks for delivery. You may download an order form below and email it to me & I'll call/email you a direct link to review your custom text.
Montana Postcard Order/Invoice Form attached here.
Word
or
PDF
click images for Point-of-Sale Displays
5x7 Cover-Art Cards
Fourteen one-of-a-kind 5x7 Art Cards uniquely recognize great outdoor artists from the early 20th Century.
Click here to review the Fox Collection of Beautiful 5x7 Art-Cards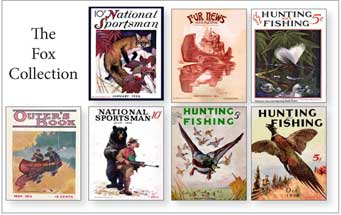 Click here to review the Kingfisher Collection of 5x7 Art-Cards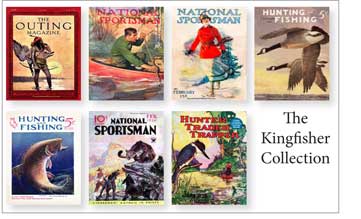 THANKS
to these Businesses for Supporting ClassicOutdoorMagazines
Jim & Mary's RV Park
, Missoula, MT
Frontier Anglers
, Dillon, MT
The Cave
, Big Sky, MT
Harlowton Auto Parks & Hardware
, Harlowton, MT
Whispering Pines
, Red Lodge, MT
Blackfoot Anglers
, Ovando, MT
Montana Office of Tourism
The General Mercantile
, Helena, MT
Head West
, Bozeman, MT
The Lodge at Whitefish Lake
, Whitefish, MT
Capital Sports,
Helena, MT
Iron Horse Cafe
, Three Forks, MT
The Lodge at Whitefish Lake
, Whitefish, MT
The Obsidian Collection
, Livingston, MT
KT's Hayloft Saloon
, Lolo, MT
Trout Bums on Rock Creek
, Rock Creek, MT

Eagles Nest
, Columbia Falls, MT

Blackfoot River Outfitters
,Missoula, MT

Bob Ward & Sons
, Montana

Flint Creek Outdoors
, Philipsburg, MT
Lolo Peak Brewing Co
., Lolo, MT
Trout Unlimited
West Slope Chapter - Missoula
Call or email with questions.
Thanks. - - Bob@classicOutdoorMagazines.com
406-552-2569
Florence, MT