2017 - VINTAGE OUTDOOR MONTANA DESIGNS - FALL Updates

WHOLESALE PRODUCTS

ClassicOutdoorMagazines.com specializes in preparing outdoor scenes from the past for print. Vintage scenes of hunting, fishing and outdoor adventure are designed as weathered signs, posters and custom postcards, all personalized for Montana. Perfect as cabin art for the home or office and sure to catch the eye of souvenir shoppers and local buyers.  
Vintage charm is beautifully printed in vivid colors on paper, wood and metal. Products include; Wood Signs (14x20 and 10x16), Metal Signs (12x15), and (6x9) Metal Table Toppers to quickly add a splash of Montana on a shelf or a table. Signs are individually wrapped. Discounts for large orders.
Scroll down for Product specifics.


All products are registered Made-In-Montana


Business "Net30" invoicing applies after your order is received.
Click here for
new designs being developed

Click here for The 2017 Products Flyer in
PDF
or jpeg
click here for numbered Order/Invoice Form
PDF
or
WORD
18x24 POSTERS
These designs make beautiful posters. Click here for the
Poster Page
.
Larger Previews with Numbered Order Form - on the Poster Page
PLEASE NOTE - Some designs may have different numbers for different layouts. Reference the flier number for wood or metal signs and metal Table Toppers. Same for Posters. Thanks
Wood Signs - 14x20
Metal Montana Cabin-Art Signs 12x15
Signs - $16 each ... Minimum Order...8 Signs
Pick and choose from a numbered order form in
WORD
or
PDF
click each pic for a larger preview. These numbers match the
Fall 2017 Order form
.
Metal Montana Table Toppers
Toppers ship flat. The base is easily bent for display.
6x9 Topper - $12.00 ... Minimum 5
click here for Order Form in
PDF
or
WORD
Six Montana Designs As Custom Text Postcards
(4x6)
Your business information added to the vintage back.
click for a larger preview
Minimum Order...60 Postcards ... $52 Free Shipping
Your business information is added to the vintage back. Drafts will be reviewed/approved on a webpage setup for your business on this website. I'll send you an email with a direct link to your graphics.
These are the six designs used for a Standard Postcard Order. Let me know if you want other designs. All are available.
click each pic for a larger preview
Pick any number of your preferred designs by increments of 10. Match the season and your location. I can also easily add your logo/brand or graphics to the custom back in addition to your business information. All for the same price.
Double The Order
...
120 Postcards
... $84 Free Shipping
All graphics & text are editable. Online review/approval/invoicing is just a quick click to your webpage. Postcards are printed in Missoula, MT. Allow 2 weeks for delivery.
2016 Designs are also available
.
Click here to review 2016 designs.
To avoid ordering confusion - Please Contact me to order.
Thanks - - Bob@classicOutdoorMagazines.com
Montana Postcard Order/Invoice Form attached here.
Word
or
PDF
click images for information on Point-of-Sale Displays
5x7 Cover-Art Cards
Fourteen One-of-A-Kind 5x7 Art Cards uniquely recognize great outdoor artists from the early 20th Century.
Beautifully printed and finished on premium pearl shine 110# paper.
$1.70
each Card. Minimum Order...30 Art Cards
Click here for specific Cover-Art Card Order Form in
Word
or
PDF
Click here Fox Collection Flier of Beautiful 5x7 Art-Cards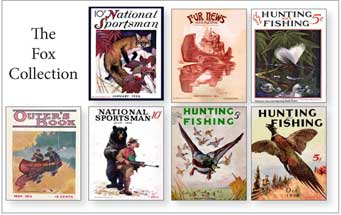 Click here for Kingfisher Collection Flier of 5x7 Art-Cards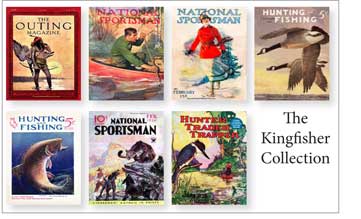 These products can be found at these Montana Businesses

Madison Crossing
- West Yellowstone
Out of the Blue
- Livingston
Grassroots
- Philipsburg
Montana Marie
- Kalispell
Station 8 Antiques
- Columbia Falls
Hi-Country Trading Post
- Lincoln

Montana Camp
- Belgrade
Sassy Sisters
- Bozeman
My Home In Montana
-
Ennis
Gusts of Big Timber
The Wine Cave
- Hamilton
Blackfoot Angler - Ovando
East Rosebud Lake Store
- Alpine-Roscoe
The Lodge at Whitefish Lake
- Whitefish
Rockin Rudy's
- Missoula
Bitterroot Flower
- Missoula
Copperopolis
- Missoula
Emmett's Meats - Gift Store - Columbus
Head West
- Bozeman
Historic St. Mary's Mission - Stevensville
Gypsy Wind
- Billings
Powder Horn Trading Co. - Kalispell
Vintage Station - Helena
Park Hotel - Gardiner
Elk Tips Outdoor Gear - Deer Lodge
Beyond Necessity - Anaconda
Fishtail General Store - Red Lodge
Whitefish Quilts & Gifts
- Whitefish
Crown of the Continent - West Glacier
North American RV Park - Coram
Bozeman KOA - Bozeman
Yacht Basin Marina - Helena
Aunt Bonnie's Books & Gifts - Helena
Jim & Mary's RV Park - Missoula
Frontier Anglers, Dillon, MT
The Cave, Big Sky, MT
Harlowton Auto Parks & Hardware, Harlowton, MT
Blackfoot Anglers, Ovando, MT
Montana Office of Tourism
The General Mercantile, Helena, MT
Capital Sports, Helena, MT
Iron Horse Cafe, Three Forks, MT
The Obsidian Collection, Livingston, MT
KT's Hayloft Saloon, Lolo, MT
Eagles Nest , Columbia Falls, MT
Blackfoot River Outfitters ,Missoula, MT
Bob Ward & Sons, Montana
Lolo Peak Brewing Co., Lolo, MT

Trout Unlimited West Slope Chapter - Missoula
M LaFrance
Pasttimesigns

Call or email with questions.
Thanks. - - Bob@classicOutdoorMagazines.com
406-552-2569
Florence, MT