Rustic Minnesota Outdoors
WHOLESALE PRODUCTS for 2016



Vintage Metal Signs - Art Cards - Posters
Boundary Waters Canoe Area - Ely, Minnesota
Early outdoor magazine covers have been digitally remastered into rustic art for the cabin, home or office. Vintage scenes of hunting, fishing and outdoor adventure personalized for your location will catch the eye of souvenir shoppers and local buyers.

Custom designs on steel are available as; Weathered signs (12x15), Wall-Hanging Round "Buttons" (14" diameter) and 8" Round Table Toppers. Toppers ship flat with a notched base easily bent to stand on a shelf or table. Heavyweight steel signs are professionally printed with vivid colors and individually wrapped to prevent shipping damage. Bar coding and discounts are available for larger orders.

Scroll down for Product specifics.

All "Made-In-America".
Minimum just 6 Signs. Pick-and-choose your favorites using the matching numbered order form. Minimum Order – 6 signs … $16 ... FREE shipping

Click pics to open larger previews




click here for a 2016 numbered order form

Minnesota Round Table/Shelf Topper
Ship Flat - Custom Design for Your Location
Custom Text for BWCA - Ely - Notched Base Easily Bent
8 inch Round - $12.75 each FREE Shipping - Minimum 4





Minnesota Buttons - 14 Inch Round
Hangs on the wall
$13.75 each - FREE Shipping - Minimum 4





The 1939 Minnesota Map Front is a beautiful, rustic graphic. Only available here.
Designed as Table Topper in two sizes
Notched Base Easily Bends
4x6 ... $10 each - FREE Shipping - Minimum 4
6x9 ... $12 each - FREE Shipping - Minimum 4

Designed as Poster 18x24
$15 each - Minimum 5 - FREE Shipping in Tube
Inexpensive Frames Readily Available




Cover-Art Cards
Fourteen magazine covers have been beautifully restored for 5x7 greeting cards. Each card face is designed as a vintage outdoor magazine cover in miniature. Inside each card is a faded magazine ad from the period uniquely complementing the cover-art scene.

Click the pic below to go to the Fox Collection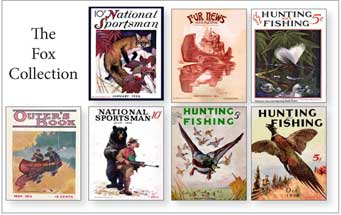 The Kingfisher Collection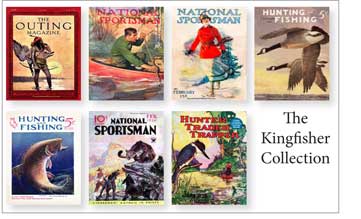 Call with questions. Thanks.
Bob@ClassicOutdoorMagazines.com 406-552-2569
Florence, MT