WHOLESALE PRODUCTS for 2015

Click here for a list of Wholesale Order Forms & Flyers

MADE-IN-MONTANA
Ordering forms in Word or PDF provided for each item.
Standard Business Payment Options are accepted. Product bar coding is available.





MONTANA DESIGNS

Montana Businesses - KT's Hayloft Saloon ... Trout Bums on Rock Creek ... Eagles Nest ... Blackfoot River Outfitters ... Bob Ward & Sons ... Flint Creek Outdoors ... Lolo Peak Brewing Co.


Trout Unlimited West Slope Chapter - Missoula
Trout Unlimited Oak Brook Chapter - Chicago


MINNESOTA
The Boundary Waters Canoe Area - Ely, Minnesota
Piragis Northwoods Co. ... Burntside Lodge

Leech Lake
Tagged By Brea

Hackensack

Park Rapids
The Trading Post ... Round Bay Resort

Rusty Blades

Washington
... Simply Northwest in Spokane

TEXAS
The General Store
---
Magazine Cover-Art Greeting Cards - 5x7
Click here to open a sample.

14 cards are assembled into two 7 card collections. Each Collection covers similar outdoor themes. Cards with natural color envelopes are sold individually or in seven card Collections. Collections will be packaged in clear plastic envelopes or in a clear plastic box ready to sell as a Gift Set. Please note your choice when ordering.

Pick-and-choose specific cards for your customers using the numbered ordering forms provided. Your card selections will be packaged in clear plastic envelopes to prevent smudging.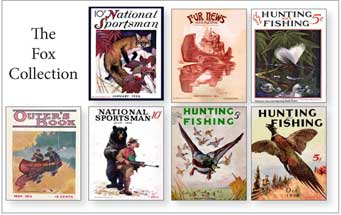 Click here to review the Fox Collection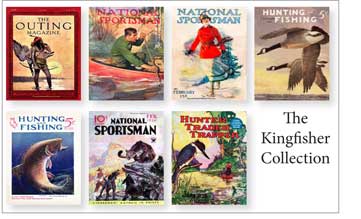 and the Kingfisher Collection

• $1.70/card with envelope (minimum order 30 cards) using the numbered order form.
• $12/Collection (minimum order 4 Collections)

10% Discount for 80+cards. 10% Discount for 10+ Collections.
Allow 2 weeks for delivery.

---
Email or snail-mail completed order forms with business information to the address below. Please call with questions or for information. Please let me know of errors and improvements you would like to see.
THANKS for your business. Contact me at:

bob@classicOutdoorMagazines.com or call 406-552-2569 cell
or snail-mail to:

Bob Pitman
ClassicOutdoorMagazines.com
5732 Fox Trail
Florence, MT 59833